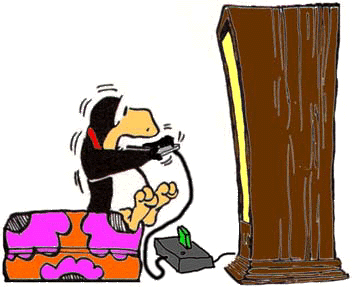 ---
Our Fallout 4 Mods
My Wonder Wife and I have built a fun mod for those who play Fallout 4 on the PC. Its called "A Variety of Containers". You can find it here:
A Variety of Containers - she built all the new new textures that give variety to the containers, and I figured out how to add them all to the crafting menus. My amazing wife then also figured out how to randomly change all the suitcases in the game world with our varient versions....
---
My Homebrew Game Ideas
My Unity3D Development Page - I've spent a bit of time playing with Unity 3D development, and here are a couple of web browser playable prototypes I've built....

My Game Boy Advance Development Page - several home-brew GBA mini-games are here, along with source code and links to GBA development sources on the web.

My Game Boy Development Page - Here you can find my small Nintendo Game Boy experiments (including source code). The page also has links to all the tools you need (emulators/debuggers, code assemblers, art tools, etc.).
---
Sega Genesis
A couple of games I worked on when I was first starting my career as a game developer, when I was just a lowly tester....
---
The Sega CD
Once I got hired as a Sega programmer, I worked on two SegaCD projects for the Sega Multimedia Studio.... I recently did an interview about my time at Sega, for the Sega-16 website... you can find the interview by clicking here
---
Nintendo 64, Playstation, and so on...
ROBOTECH: Crystal Dreams for the N64 - Though this game never got released, it was almost complete when the company I worked for went bankrupt. Here you will find screen captured videos, scans of the R:CD comic book, design notes, and other Crystal Dreams stuff, as well as some non-Crystal Dreams Robotech info. This is also my Robotech fan page....

BattleTanx: Global Assault for the N64 and PS1 - blow up your friends in fast paced tank combat! This was the first (and second) game I worked on after joining 3DO.

World Destruction League: WarJetz for the PS1 and PS2 - A great air combat arcade shooter for the PS2 and PS1. I'm very proud of the work I did on this game, and there are few games out there that can match the amount of total destructiveness (is that a word?) you can find in Warjetz....

Dragon Rage for the PS2 - I put in a few weeks building effects for this interesting 3DO game. I was tasked to created four "fury" attacks, which gave me the chance to have fun for four weeks creating interesting visual effects....

Jonny Moseley Mad Trix for the PS2 - Extreme skiing with olympic skier Jonny Moseley and his friends. I admit... I don't know much about trick games, and I worked only briefly on the intro menus for the game, but I had fun playing this title. X-Play has had a lot of fun bashing this game (with good reason) due to its awful intro video....

Jacked (PS2, Gamecube, and X-Box) - If you ever wanted to smack someone off a motorcycle with a baseball bat, this may be the game you wished for! Unfortunately, 3DO went splat just as we were putting the finishing touches on the game....
I recently did an interview about my time at 3DO. You can find it here....
---
My More Recent Work....
Shockwave games and demos - I spent a couple of years working for a small game company called Khoral. This page is devoted to some of the work I did there, as well as having a couple of Shockwave demos I built myself (which you can download and play with).

The Novint Falcon - The Novint Falcon is the most innovative computer controller ever created. With it, you can actually feel the action of some of your favorite PC games. This page is devoted to several of the games I integrated the Falcon into.

Monster Gila iPhone Games - I've been working lately on iPhone games with some friends at Monster Gila....
---
You can send me mail at opus@opusgames.com.







---
Opus the Penguin is copyright © 1984 by The Washington Post Writer's Group. The above picture was built from pieces found in the Bloom County: Tunes For Our Times trade paperback. The artwork was then modified by the author of this web page.