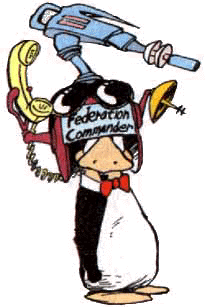 Toys and Collectables
One of my hobbies is collecting science fiction toys and memorabilia. Below, you can find links to some of the specific items in my collection

Animation Cels - these are the frame-by-frame drawings that make up cartoons. Currently, there are several Robotech related cels, various Ranma 1/2 cels, and one from Plastic Little that I found in a sushi restaurant.

Robotech/Macross Toys and Stuff - I already collected Robotech toys before I got the job at Gametek, but working on a Robotech game has provided some unexpected opportunities.
Other Anime Toys - although nowhere near as big as my Robotech collection, I've also been collecting some odds-and-ends from other favorite anime and manga series. I've also included a small shopping guide at the bottom, for those of you who want to add to your own anime collections.
Sci-Fi Micro Machines - I have almost complete collections of Star Wars, Star Trek, Babylon 5, and other micro machines.




Another hobby I pursue is Juggling. I have a set of four custom european Dube clubs (in these colors), as well as a set of torches, and the usual gaggle of balls, rings, and other random items. Being the visual talent that it is, however, I can't think of anything to say about it here! You can find a link to a good juggling web site here, though.

I found this little picture of a juggling figure, drawn by the pre-historic Toltec culture around 950 AD. Given my love of Mesoamerican archaeology (see the archaeology page), this was a nifty gem to find. You can find a larger version on the juggling web page liked above.



---
You can send me mail at opus@opusgames.com
---
Robotech is copyright and trademark © 1985 by Harmony Gold, USA, Inc.

Opus the Penguin is copyright © by The Washington Post Writer's Group and Berke Breathed.

Robotech is copyright and trademark © 1985 by Harmony Gold, USA, Inc.