Robotech: Crystal Dreams Comic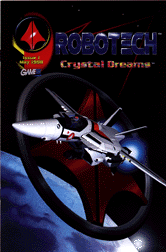 Here you can find the entire R:CD promotional comic. It was written and scripted by me, using details from the prequel story I wrote. The artwork was provided by Antartic Press, mostly using pre-existing artwork from other Robotech comics and ship models from the game. The cover artwork was created by the artists at Gametek, using a hi-resolution Veritech model.
Gametek had about 3000 copies of this comic printed up for the 1998 E3 trade show. We ended up handing out about 800 or so at the show, but the rest were lost and probably shredded (Gametek went out of business soon afterwards). Few actual copies seem to still exist, which may make this short 8 page comic one of the rarest Robotech comic books out there.
There are two minor errors in the comic. The first is on the inner cover, where the "TM" is in the wrong place on "Super Dimensional Fortress One". The second is on the first page of the comic, where the main character is listed as "Kylr" rather than "Kyle". Other than those minor details, though, the comic turned out wonderful.
I've also built the comic as an eBook (which I currently have on my iPad in the iBooks app).
R:CD Comic eBook (RCDComic.ePub), 1.87 Mb
Click on the picture to start at the beginning, or pick a particular page from the list below.
---
You can send me mail at opus@opusgames.com
---
Robotech is copyright and trademark © 1985 by Harmony Gold, USA, Inc.
Robotech: Crystal Dreams and all game related pictures are copyright © 1998 by Gametek, Inc.
Nintendo, N64, and the Nintendo 64 logo are copyright and trademark © Nintendo,.